"I am ever living to help and guide all who come to me, who surrender to me and who seek refuge in me. – Sai Baba"
In view of the prevailing COVID-19 related humanitarian crisis all over the world, including India, Shirdi Sai Parivaar is hosting the Special 12-hour Parayan (reading) sessions of Sri Sai Satcharita on Sunday, May 2nd, 2021.
Special Satcharitra Parayan will be conducted virtually.
The Sai Satcharita Parayan will begin at 8:00am and with Baba's blessings we will conclude before Dhoop Arati or Shej Arati..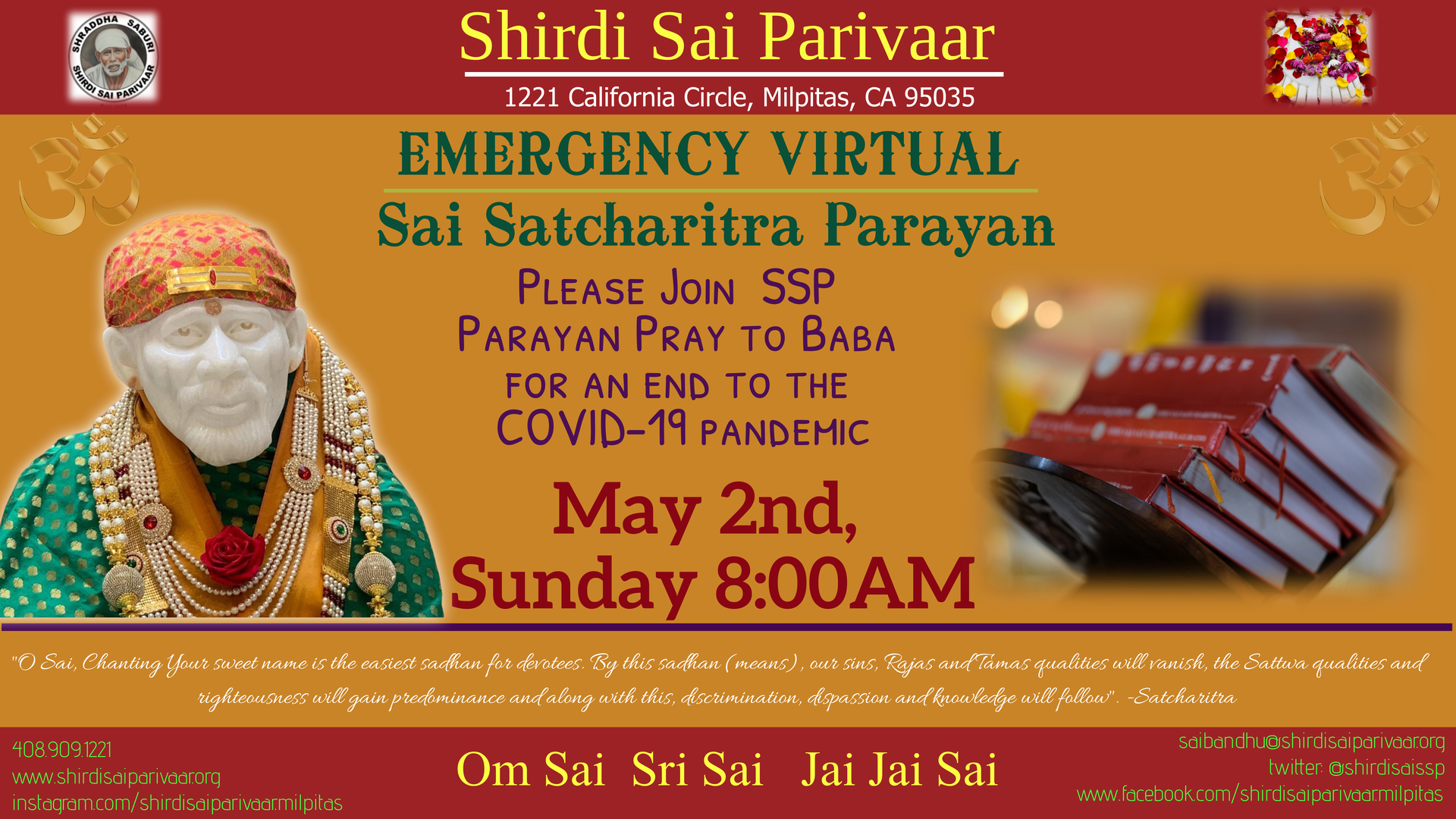 Instructions for participation:
1. All devotees are welcome to signup for reading a Sai Satcharitra chapter.
2. You can read the chapter in a language of your choice.
3. Please dial into Zoom conference bridge, mute your phone and wait for your turn.
4. All devotees can listen to the Parayan on SSP Live link at www.shirdisaiparivaar.org
Note: Chapters will be read in chronological order only
Please sign up for the chapter you wish to read at:
Sign-up
Please join only if you have signed up to read a chapter at::
Meeting Link
Meeting ID: 810 5644 6437; Password: 839666; Join by phone: 1-669-900 6833 Access code: 810 5644 6437
We would like to thank you for your support. Please let us know if you have any questions or feedback, you can contact us @ (408) 909-1221 or email: saibandhu@shirdisaiparivaar.org
 BOW TO SHRI SAI AND PEACE BE TO ALL