Community Classes 2022-2023:
Shirdi Sai Parivaar is pleased to announce the beginning of the enrollment process for various community classes for the year 2022-2023. Student ID is necessary for class registration. Student IDs from the previous year are not valid. Student ID registration for 2022-23 are open. Click here for Student ID Registration form.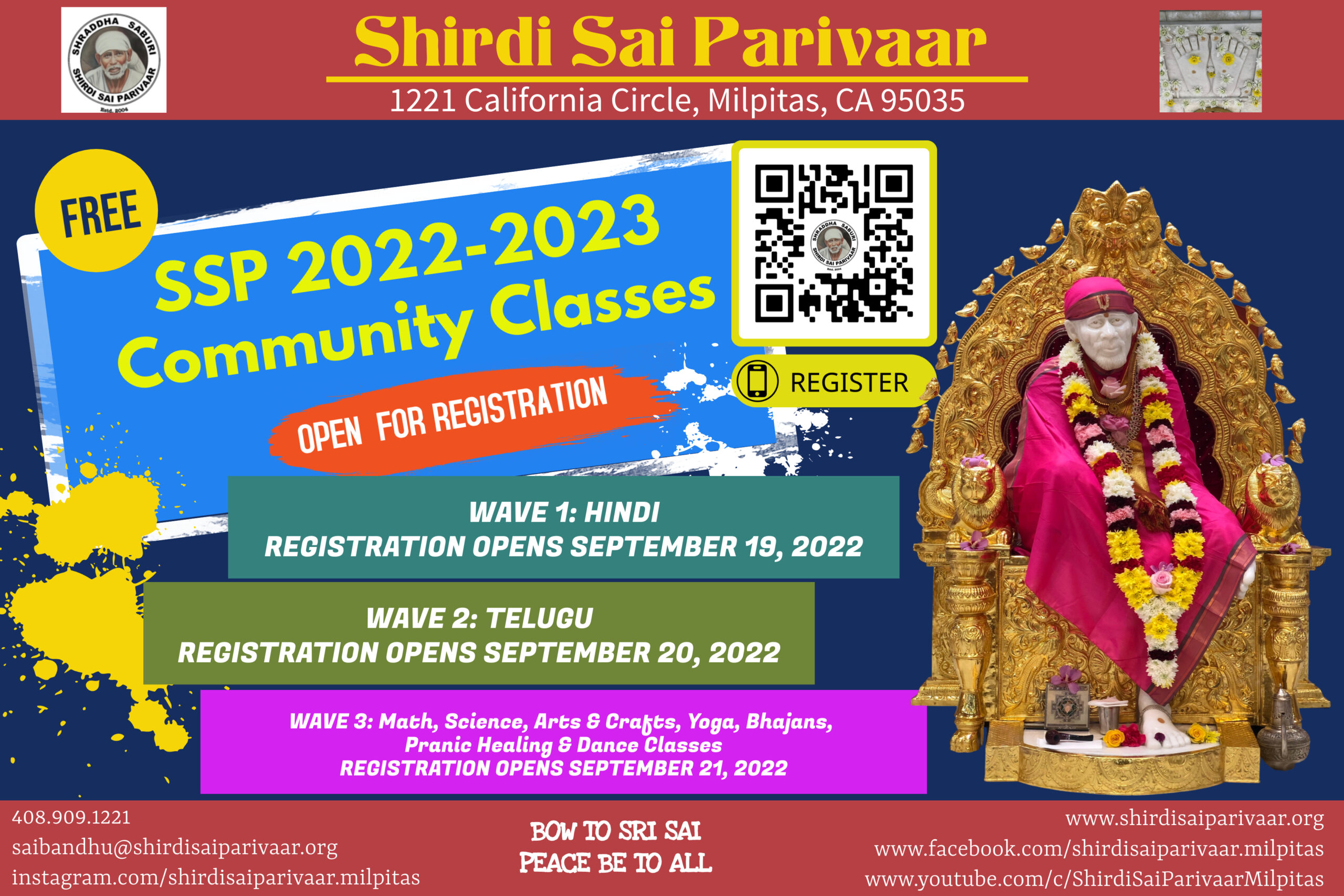 (*) All registrations start around 8:00PM Pacific Time on the Registration Start Date.
Full list of class schedule given below with start dates and prerequisites
Registrations are open for all classes (if seats are still available).

Waiting list for Hindi Levels 2 to 5 and Telugu L2 and L3 will be open on Oct 7, 2022 at 8 PM PST.
If you have any questions/issues relating to Classes Registrations, please feel free to send an e-mail to
[email protected]
Devotees are requested to look at the Registration start and end dates for each class/activity, and submit their registration requests during that time window.
Important Note: As we receive lot of requests for our community classes, and in order to give fair opportunity to all the requests,

Shirdi Sai Parivaar is implementing a

3

class limit for each participant. Any requests beyond

3

classes for the same participant will be rejected based on the order of registrations received

. Participants will be allowed to register for a

4th

class only if there are vacancies or dropouts in a specific class. Participant needs to register again when the subsequent registrations open up. No waiting list will be maintained for any class/activity.

The registration entries will be validated based on

Student ID, name and email id. So please use the information that you had provided for obtaining the Student ID.
PLEASE NOTE THAT WE WILL WAIVE THE STUDENT ID REQUIREMENTS FOR SOME OF THE CLASSES. THE LIST OF CLASSES THAT DO NOT REQUIRE STUDENT ID WILL BE CLEARLY INDICATED.
Unless otherwise communicated, all registration requests will be handled only from this registration page.

All the class/activities at Shirdi Sai Parivaar are offered FREE to all the participants.
(*) All registrations start around 8:00PM Pacific Time on the Registration Start Date
NOTE: Couple of minutes delay in opening of the registrations is expected, as the registration open time is handled by remote servers.
Communication on multiple registrations for same class:
1. In general, if you had registered more than once, you should have received multiple position numbers.
2. In such case all duplicate position numbers will be rejected.
3. You will receive another email for the first position number depending on other validations.
4. If you have not received emails for all your position numbers that would mean validations are still in progress.
If you have questions , please email charity@shirdisaiparivaar.org
BOW TO SHRI SAI AND PEACE BE TO ALL