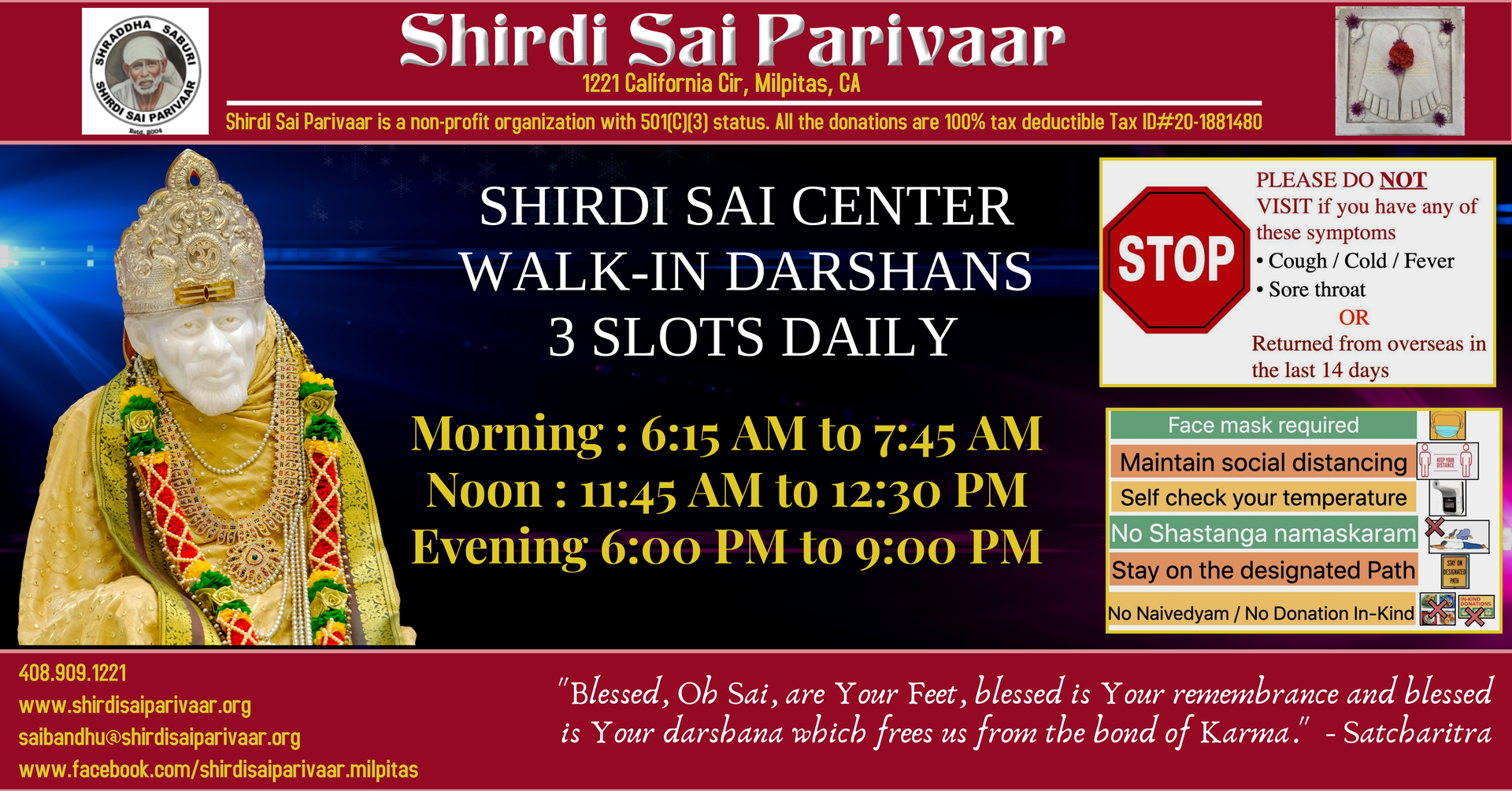 With Baba's blessings, Shirdi Sai Parivaar is now open to devotees for Darshan by Walk-in on any day during the following timings:
Morning: 6:15 AM to 7:45 AM
Noon: 11:45 AM to 12:30 PM
Evening: 6:00 PM to 9:00 PM
To facilitate smooth Baba Darshan, SSP is taking into account all the necessary health and safety precautions related to COVID-19. SSP requests devotees to comply with these guidelines for the benefit of the safety of community.
Guidelines
to adhere:
1. We recommend you leave your footwear in your vehicle or leave near the main entrance of the temple (to the left). Footwear is NOT allowed inside. Restrooms and water stations will not be available.
2. Please wear your mask at all times (Children included) and maintain social distancing as marked on the floor.
3. Please take care of your children at all times and do NOT allow them to leave the line. They should be with you at all times while you are in the darshan queue.
4. Please sanitize your hands at the station inside the temple and refrain from touching anything. (Including idols, padukas, crowd control ropes/walls/doors etc). Please do NOT do 'Sashtanga Namaskaram'.
5. Please keep moving at a steady pace and move to the next station per the markings on the floor once it gets empty.
6. Please Do NOT bring any kind of prasadam including fruits and flowers. We will NOT be able to accept or offer it. The temple will NOT be distributing udi or prasadam during the darshan time.
9. Please do not bring in any items in kind for donation. We will not be able to accept it at this time.
10. Once you exit from the Temple door, please do NOT socialize.
We request your kind support in complying to the above guidelines so we can have a safe and blissful Baba Darshan to everyone.
BOW TO SHRI SAI AND PEACE BE TO ALL